Diane's plus size fashion blog
Jan 23rd. Getting Fit - Affordable Fitness Clothing from the M&S Collection at Marks & Spencer
Separates from the M&S Fitness Range at M&S Collection for Marks & Spencer - Available from sizes UK8 - UK22
New Year is a great time to kick start a new health and fitness regime (especially if you've eaten too much at Xmas).  New Year, New You !!!
It is also hard to escape the media campaigns on TV, newspaper and radio about getting fit, reducing one's waistline and avoiding the health issues associated with obesity.  We can't disagree either with the growing amount of medical evidence.  Obesity is a problem.
What I have found most interesting is recent coverage in the British Press which suggests that inactivity is an even greater threat to health and well being than being overweight.
So my new year's resolution for 2015 is to improve my overall fitness and thus increase my activity levels.
Like most working mothers large amounts of my daily routine are sedentary.  I drive to work, sit at a computer and/or stand in front of a class of students and then drive home again.  In between times I also do the usual driving runs with my teenage children to take them to and from all their activities outside of school.  When I come home in the evenings I get the family dinner made and then another bout of sitting takes place (either in front of a computer again or on the odd occasions that I manage to sit down in front of the TV).
Latest research says that 20 mins of good exercise per day is all that is required to maintain a general level of fitness and increase your lifespan by several years.
We are now nearing the end of January and for many the new year resolutions have started to wane.  I am struggling but I am determined to keep up with my desire for change.  I am not doing anything radical.  My husband and I try to get a 20 mins walk every evening (rain, hail or snow).  I also have joined a weekly Zumba class . I think that I am more likely to succeed by making small changes rather than attempting anything more radical.
I have been very impressed with the new Fitness Range of Clothing from the M&S Collection at Marks & Spencer.  I find all the pieces affordable and very practical.  There are many separates that you can buy to mix and match your entire ensemble AND there are a few ranges to choose from too.  This entire range also has cool comfort technology which is a registered trade mark of M&S.  This means that all of these items allow your skin to breath and cool down whilst exercising.  You do not get sweat staining on the garments and at all times you feel cool in them.
Have a look at the video below to see more details of each of the separates.

In the video I am wearing the following items

Quick Dry Half Zip Sweat Top with cool comfort technology - To buy click HERE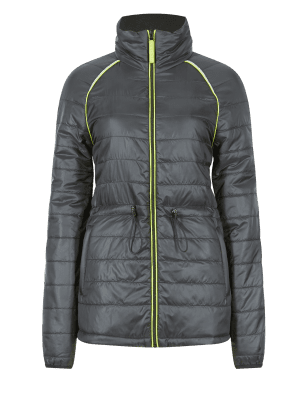 Thinsulate Padded Jacket with storm wear - To buy click HERE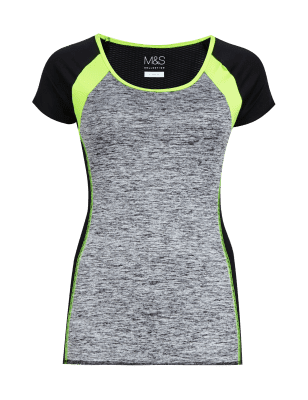 High Impact Active Colour Block T-Shirt with Cool Comfort Technology - To buy click HERE

Reflective Cropped Leggings with cool comfort technology - To buy click HERE
And finally here are a few pics of me wearing 2 other tops which are all part of the separates which can be mixed and matched within this range
Neon Bright top and grey leggings part of the M&S Fitness Range from M&S Collection at Marks & Spencer
Quick Dry Scoop Neck T-Shirt with cool comfort technology To buy click HERE
Vest Top with Cool Comfort Technology - Available in sizes UK8 - UK22
Colour Block Marl Vest Top with cool comfort technology - To buy click HERE
Until Next Week.  Diane XXX
--------------------
Jan.14th - What to wear Skiing - Recommendations for essential and affordable clothing


Happy and Healthy New Year Everyone. I went on my first ever ski holiday, to Andorra, over the Christmas Period.  It was great fun and very different from any other holiday that I have had in the past. The only downside was that internet and mobile were very unreliable being so high up. So I've had to wait until getting home to post this.
As this was my first time skiing I was mindful of being extremely sensible with my spend. ( I might not have liked it after trying it. ) I took advantage of Black Friday to bag my bargains but there is still good value to be had in the sales.
I bought my skiing clothing from Trekwear, M and M Direct, Matalan (snow boots) and M&S (fleece).
This is what I bought, and I think it's a must-have list.
A ski jacket
Salopettes (ski trousers)
Thermal underwear (base layers) - at least 2 sets (comprising vest top and leggings) for one week
A fleece
Ski gloves
A fleece neck gaiter (or snood) to keep your neck warm
Goggles (Bright ultra-violet glare from snow and sun will give you a headache AND goggles stop the wind blowing powdery snow into your eyes, and help with wind chill)
Ski hat (plain and simple with NO tassels nor bobbles - in case you want to wear it under your ski helmet)
Ski socks - at least 2 pairs for one week
Snow boots OR water proof boots such as walking/hiking boots (trainers are a NO-NO.  Your feet will quickly get wet, and very, very cold)
Rather than buy straight away, it's better to hire your ski boots, skis, helmet and poles from your tour company or one of the many private providers at your ski resort. (For your first holiday at least, - until you definitely know whether or not skiing is for you)
My clothing is all budget labels and I made full use of the additional discounts available during Black Friday.  Everything that you see in the photo above was more than sufficient for skiing in and for apres ski.  The coldest it was on the mountain was -7 degrees Centigrade during the day.  When we were leaving our resort (at 3am) it was -11 degrees Centigrade and snowing heavily.  At all times I was snug and very comfortable in my ski clothing.
Below are a few examples of some of the clothing items that I bought (which are still available) and links to the relevant sections for budget spending.
Dare2b Ski Jacket - This is very similar to my jacket in design detail.  It is only available in black - £19.95 - Currently available up to size UK18
Below are links to the retailers I've used, to help you get the items you'll need for your skiing holiday.
1.Trekwear - for almost everything you need (even goggles)
2.  Trekwear - ski socks from (£5.95 for a pair)
2.  MandM Direct - selection of snow boots and walking/hiking boots on sale (from £8.99)
3.  Matalan - for selection of snow boots and walking/hiking boots on sale (from £20)
3.  Marks & Spencer - for fleece tops
In the video below I talk about my budget ski clothing.
Until next week when we will be getting fit in 2015. Diane XXX
-------------------------
Dec. 2014 blogs, click here - Dec 12th Half Length Black Leather Sheepskin Coat in Contemporary Design - Celtic & Co. - Dec 6th Wonderful Toscana Sheepskin Full Length Hooded Coat in Chocolate Brown - Celtic & Co.
Nov. 2014 blogs, click here - Nov 30th Down and Feather Coat. Long Tall Sally. - Nov 15th How to wear Tweed part 2.
Oct. 2014 blogs, click here - Oct 30th How to wear Tweed, part 1. - Oct 24th M&S Waist Cincher Knickers for tummy control. - Oct 16th Lipstick Boutique at House of Fraser - Oct 2nd Ann Harvey at Bonmarche
Sept. 2014 blogs, click here - Sept. 25th Curvety Special Occasion dress - 19th Dickins and Jones Day Wear - 14th Yours Blouse - 4th Debenhams Tea Dress.
Aug 2014 blogs, click here - Aug 29 Jump suit from Pink Clove, - Aug 21 Flared Skirt, Wardrobe staple. - Aug 15 Fine Knit Cardigan, Wardrobe staple. - Aug 7 David Emanuel at Bonmarche. - Aug 2 Road test of Leanne Shoes from Hotter.
July 2014 blogs, click here - July 29 Berlin Break, July 26 YOURS - Floral Maxi Dress, July 15 Woolovers Jumper around shoulders look, July 14 Woolovers City Look, July 13 Woolovers Casual Layered Look, July 12 Woolovers V-Necked Jumper - look #2, July 11 Woolovers Twin Set look, July 10 Woolovers Sleeveless Top, July 9 Woolovers V-Necked Jumper look #1
June 2014 blogs, click here - June 27 Suede Moccasin Shoes. June 20 Garden Party - Overlay Dress from Long Tall Sally. June 12 Aran Boyfriend Cardigan- Celtic & Co. June 5th Little Black Dress.
May 2014 blogs, click here - May 30th Ivory Bridal Dress (vintage 1950s style) from Monsoon. - 22nd - The Return of the Trouser Suit. - 14th Agricultural Show or County Fair - Practical Styling Advice. - 7th M&S boot cut jeans - 1st Plus Size Revolution - money counts.
April 2014 blogs, click here -Apr.27th The Plus Size Revolution - Curves take Centre Stage. - 20th Travel Clothes - 4th British Plus Size Fashion Week 2014 - Dynasty.
March 2014 blogs, click here - Mar 20th British Plus Size Fashion Week 2014 - Curvety. - 14th British Plus Size Fashion Week 2014 - Jane Watson.
Feb 2014 blogs, click here - Feb 27th British Plus Size Fashion Week 2014 - Dea. - 14th Diane Marshall Plus Size Model London Fashion Week. - 7th All weather fitness clothing
Jan. 2014 blogs, click here - Jan 30th London Fashion Week, plus size modelling opportunity. - 23rd Plus Size Acceptance vs Weight Loss. - 16th Plus Size Weight Loss - an expert approach. - 9th Plus Size, what size of fit are we describing?
All 2013 blogs, click here

June 15th 2013 - Welcome to my blog !